About us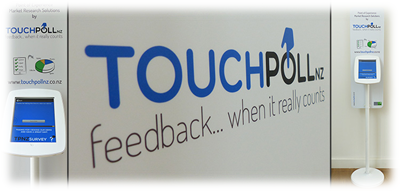 TouchPoll NZ is a provider of intercept market research solutions, handling all aspects of intercept research. We offer self-administered kiosk solutions, face-to-face customer interviews and email based research solutions.
We have been implementing projects to gather meaningful point of experience feedback for our clients since 2002. Our broad range of knowledge and attention to detail delivers effective research to help you make your important business decisions, rationalise your communications and manage your consumer approach.
Working closely with you to identify critical information gaps we'll design the research project and assist with question content using suitable question types; ensuring respondent-friendly wording and the best research methodology.
We deliver immediate results, during and at the conclusion of a research project - tailored to meet your exact requirements.
Our systems offer real-time answers, displayed in a graphic and easy to understand format, to the questions every business needs to know, based on actual research.
TouchPoll NZ is a member of The Research Association of New Zealand
Contact Infomation:
TouchPoll NZ
PO Box 65-317
Mairangi Bay
North Shore 0754
New Zealand

Phone: (09) 478 4981
Mobile: 021 478 782